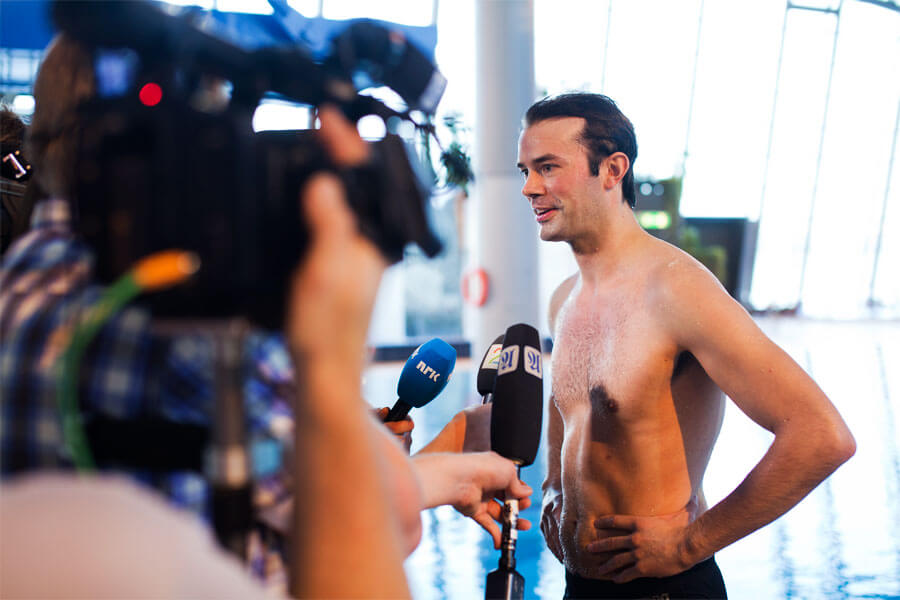 Er det en overflod av dumme folk i verden?
BY Christian Wedoey IN Livet mitt, Lord Christian, Showbiz, Uncategorized On February 4, 2016
Er det en overflod av dumme folk i verden?
Eller er det bare at de som ikke er så smarte har et større behov for å fortelle alle hvor smarte de er?
For ca ett år siden la jeg ut en video på Youtube fra et stunt jeg gjorde i Pirbadet, der jeg holdt pusten i litt over fem minutter.
Den videoen nådde akkurat 200.000 visninger og nesten 300 personer har kommentert på den.
Det er disse kommentarene som har fått meg til å tenke, er det overvekt av idioter der ute, eller er det bare at idiotene har større behov for å legge igjen kommentarer? Jeg bryr meg fint lite om hva folk tror, men man blir litt fascinert over hva folk faktisk finner på å skrive.
Se utbrytingen fra Pirbadet
Med over 40 kommentarer der folk indikerer at jeg ikke er under vann, eller at det er fake så må man jo begynne å lure. Spesielt når logikken deres er at det ikke er bobler som flyte rundt nede på bunnen, eller at hvis det faktisk var vann der så burde håndjernene flyte opp når jeg tar de av. Det at det kommer bobler på starten og at jeg svømmer opp på slutten ser ut til å fly rett over hodet på folk.
Enten må jeg være verdens beste illusjonist som klarte fake dette live på nasjonal TV, eller så må idioter ha en stor trang til å kommentere på ting. Nå som det er sagt, så betyr ikke det at det er utelukkende negative kommentarer.
En god del av de kommentarene som kommer er folk som skal krangle med hverandre og komme med logiske løsninger også.
Til deres underholdning har jeg limt inn noen av de underholdende kommentarene jeg har fått under her.
Etter å ha lest de kanskje du tenker over hvilke kommentarer du skriver på Facebook og Youtube.
super fake! for Instints there was crystal clear sound! whoever made this must be idiots
fake the things that he untied should go up
he did not breathe in pure oxygen if u breathe pure oxygen you dont have to blow out you just keep inhaling
That's so fake you can hear the sound effects like on land not water
he had oxygen cuase he could breath though his nose
But water slows you down, and the way you put the handcuffs down was like without water, keep saying that you were under water to yourself and fool yourself
Kommentar:lol u suck I saw the handcuffs too dumbass u could get banned for thisI'm not sure what you are aiming at, and banned from what? The pool? Youtube?utube for pulling a prank u dumbass I ain't believing that shit
Tobias Rosen: It sounds like its fake. AlexnicloGaming: You must be that retarded huh? Go to school twat!
it's so fake. I hate when people lie
I think its a little fake because he could POSSIBLY breathe through his nose
Robyn Shaw: look at his nose he didn't do it he is lying. Sonic The Hedgehog: Those goggles prevent him from intaking water through nose on accident. they don't provide air. they hurt your eyes if you try to breath
This is so fake because U can't hear anything underwater
It's fake bc things would be floating and no bubbles
he never was in water he made it look like it because u can here thenoises perfectly fine
A lot of things suggest it's fake You can hear the handcuffs, everything moves normally, not floaty But he is wet all over so I dunno
Not real rain
Shuhratov: so you are sayin' that he swam away in the air or something, look at the belt at the end or whatever it is, it floats, the chains are havier, they will not float. It is that simple. Why does everything put on the internet gotta have so much hate, hate ain't getting y'all nowhere
can I have a ticket off this planet i swear people are retarded
Actually It looks fake but remember The Air he had at the start. It is Most likely contaminated with Pure Oxygen or something like that. Plus, This is a ESCAPE Artist This man trained for his life to do this.
---
8 years ago / Comments Off on Er det en overflod av dumme folk i verden?
Tags:
byavisa
,
Illusjonist
,
Magiker
,
Tryllekunstner
,
tv2
,
Underholdning
,
youtube